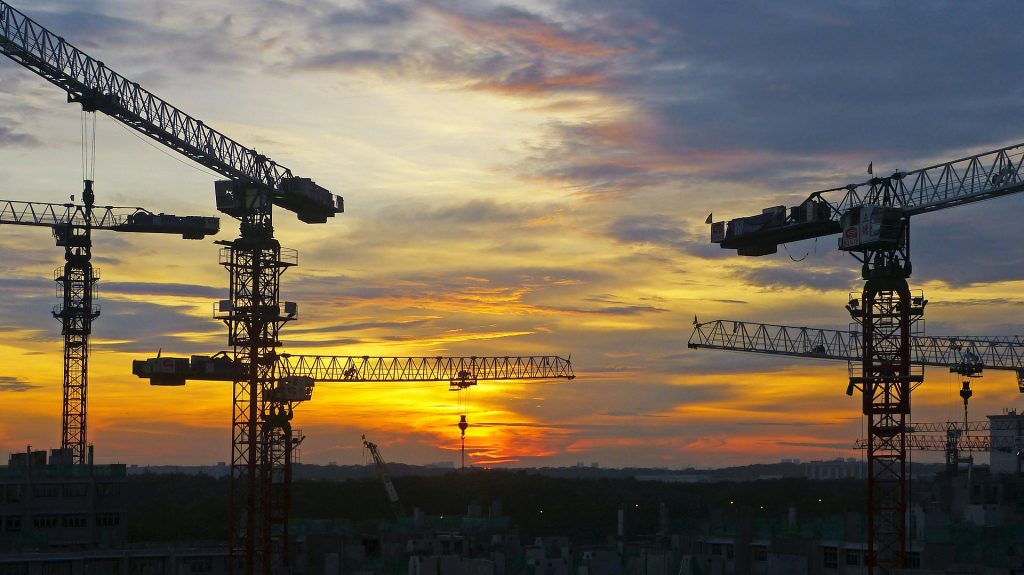 Når ikke jeg skriver her eller på mine bøger, så arbejder jeg i byggebranchen, og det har jeg gjort i 20-25 år, derfor er robotter og kunstig intelligens brugt på problemer og opgaver i byggeriet noget der interesserer mig ekstra meget.
I dette indlæg har jeg samlet links og historier fra anvendelsen af nye teknologier i byggebranchen, primært med fokus på Robotter. I et andet indlæg vil jeg koncentrere mig om udsigterne for anvendelse af kunstig intelligens i byggebranchen.
Automatiserede byggerobotter
3D print og murerobotter spås en stor fremtid inden for byggeri. I 3D print anvendes våd betonmasse til at printe murene. Med murerobotterne lægger robotten stenen, som inden er blevet sprøjtet til med enten mørtel eller special lim.
Det første 3D printede hus i Europa blev printet i 2017 i Nordhavn ved København af 3D Printhuset. Robotten og det printede hus kan man læse om her og i videoen nedenfor.
Et eksempel på en murerobot er den australske Hadrian, som er omtalt i denne artikel fra Ingeniøren. Den kan også ses i en nyere video nedenfor.
De to ovenstående eksempler er begge løsninger, som er under udvikling, og stadig kræver beskyttede og kontrollere forhold: bestemt vejr, lige underlag osv. osv. Det har nemlig vist sig, at noget at det udfordrende for robotter i byggeriet er det fysiske miljø.
Det fysiske miljø er udfordrende
Robotter er på vej ind på byggepladserne. Indtil de sidste par år har robotter, når vi undtager droner, været forebeholdt fabrikker, hvor de kunne sættes til at udføre opgaver der var veldefinerede og skulle udføres igen og igen, f.eks. som vi kender det fra bilproduktion eller anden produktion. Her er robotter i deres es. Bevægelserne er de samme, det, robotten skal samle, har altid den samme form og består af de samme dele. Omgivelserne, eller det miljø robotten skal udføre opgaven i, er også altid det samme. På en fabrik er det også lettere at adskille mennesker og robotter, sådan at robotterne ikke kommer til at skade mennesker, og mennesker ikke går i vejen for en robot.
Sådan er det ikke for de robotter, der skal anvendes på en byggeplads. Selv om entreprenøren på en byggeplads gør alt for at holde den ryddet og pæn vil der altid være ting der ligger, ting der står og omgivelserne forandre sig hele tiden. Den ene dag er der ingen væg, den næste et stålskellet, og næste dag er der en færdig væg.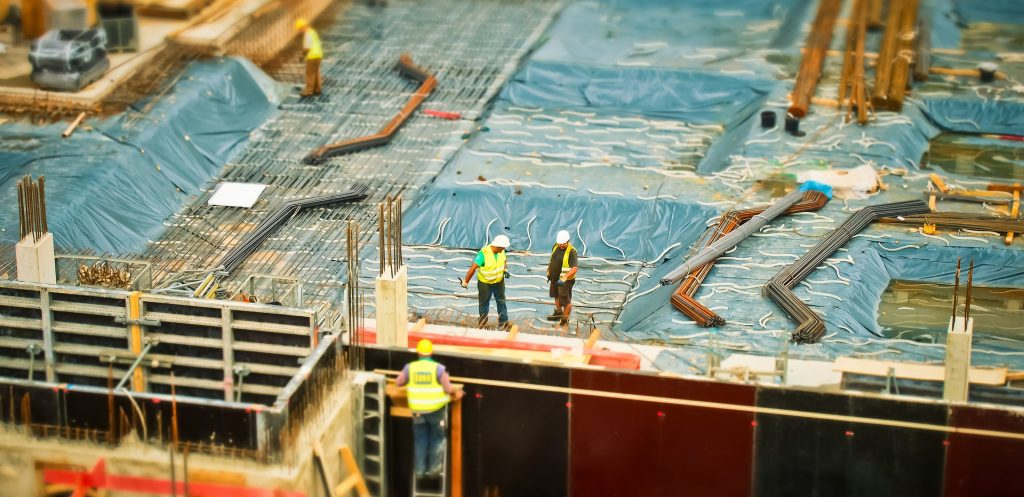 Den ene dag er der ingenting i udgravningen, den næste er der støbeforme og armering. Omgivelserne på en byggeplads ændre sig hele tiden. Desuden er der rigtigt mange mennesker på en bygeplads. For slet ikke at tale om vejret og de betingelser et udendørsmiljø kan give. Byggepladser er derfor slet ikke optimale forhold for anvendelse af robotter – alligevel er det et sted, hvor der virkelig er noget at vinde, ved at en robot udfører mange af de nedslidende og hårde løft.
Robotten som hjælper
3F har i deres medlemsblad haft fokus på robotter, og skriver blandt andet om den danske robot: WallMo . WallMo er ikke en fuldautomatisk robot, men en robot, der styres af mennesker, men foretager alle de svære og tunge løft. Den hælper med at løfte og montere store tunge glasfacader.
En anden robot, der kan løse opgaver på en byggeplads blev præsenteret fra Japanske AIST (National Institute of Advanced Industrial Science and Technology) i Tokyo. . Den kan hjælpe med at sætte gipsvægge op. Den er ikke hurtig, og vil ikke kunne konkurrere med danske håndværkere, men tilgengæld kan den arbejde 24 timer i døgnet. Robotten er beskrevet af ingeniøren i en artikel fra oktober 2018.
Noget som måske er mere anvendeligt og faktisk allerede er i brug hos en af de store skandinaviske entreprenører er en robot der kan binde armering. Et job, som ellers er nedslidende både fordi man skal bukke sig mange gange, men også fordi det er hårdt for hænderne at binde armering på f.eks. store brobyggerier. Robotten er beskrevet her i ingeniøren. Og se Skanskas egen video om robotten her.
Kvaliteten af modellerne er udfordrende
Det er ikke kun byggepladsen og de fysiske omgivelser, der er en udfordring for robotterne. Det er ligeså meget os mennesker, og den måde vi projekterer bygninger på. Vi gør det nemlig ikke detaljeret nok, til at robotterne kan bruge det til noget. Hvis automatiserede robotter skal være anvendelige i en byggeproces, skal der arbejdes meget med detaljeringen og kvaliteten af de modeller, der bygges efter. Dette er beskrevet i endnu en artikel fra ingeniøren. Her beskrives set, at når arbejdet på byggepladsen og på elementfabrikker begynder, før der reelt er projekteret færdigt og i bund, så indeholder de modeller, der haves på det tidspunkt ikke de rigtige informationer. Der er behov for at rådgivere arbejder mere med modellerne og sikre en bedre kvalitet og sammenhæng i modellerne, så de rent faktisk kan anvendes til produktion af elementer eller til styring af robotter på pladsen.
En højere kvalitet og stringens (klassifikation) i modellerne vil også spare meget tid hos entreprenørene. Hvis der sikres en højere kvalitet af modellerne vil gøre det muligt for entreprenørene, at stole på de mængder der kan trækkes ud af modellerne. Istedet for, som man gjorde, mens jeg var ansat hos MTH, at entreprenøren er nødt til at få modellerne modelleret i f.eks. Vietnam udfra tegninger.
Der er altså flere grunde til at robotter endnu ikke findes på alle byggepladser, men der sker hele tiden ny udvikling. Ingen ved endnu, hvad fremtiden byder.